Greetings to our dearest customers and those who are visiting our website and social media from all across the globe.
I am Sonoshi Okumoto, the chef-owner of KOBE Steak & Grill MERIKEN・HATOBA.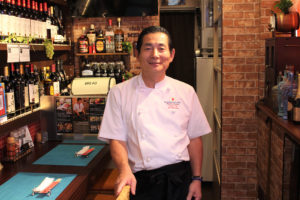 First and foremost, I'd like to start by expressing my deepest sympathies for the troubles everyone has experienced due to the recent coronavirus and condolences for lost loved ones and their families. I'd also like to convey my utmost gratitude to healthcare workers and others on the frontline combating this crisis.
Our lives have also been significantly impacted by the virus. Our restaurant, Meriken・Hatoba, which was filled with the mirthful smiles of people from all over the world, has been closed since April 7th. Now, nearly 5 months has passed since then. To be honest, I did a lot of thinking during that time. I thought positively, but also had to consider the worst-case scenario. However, we as a restaurant, and myself as the chef-owner, resolved ourselves that there must be something we can do to once again bring smiles to people from every corner of the globe as the pandemic subsides. We thought that we should work hard to give positivity and excitement to our fans of Meriken・Hatoba and those who wish to come visit our home region of Kobe by showing them what we have been working on, and all of the wonderful things we have on the horizon, through our official website and social media!
I'll be turning 60 years old next year on January 5th. I'm certainly past my youth, yet I'm always very energetic and looking optimistically toward the future! That includes studying and developing new methods of cooking! On top of being a professional chef, I'm a professional golf coach and have been practicing to keep my body and soul in top condition! I will strive to greet everyone back with even more spectacular cooking skills, creative dishes, and impeccable, heartfelt service!
Please look forward to our updates!
Sonoshi Okumoto
Owner / Chef
22 / 08 / 2020