Hello everyone around the world!
When you read the title, I'm sure many of you might have felt sort of bewildered. Meriken・Hatoba is a steakhouse, isn't it? Why do they need to add kamameshi to their menu item? What even is kamameshi?? With that being said, I will explain to you about kamameshi first.
Kamameshi is one of the most popular traditional Japanese rice dishes cooked in a single-serving iron or clay pot. Ingredients for a standard kamameshi include white rice, vegetables, meat, seafood, and water along with some seasonings such as soy sauce and mirin sweet sake.
In the English-speaking world kamameshi might be known as "kettle rice". Kama means iron pot / clay pot and meshi means either rice or dish.
The best part of Kamameshi is the moment when you lift the lid off the pot. An amazing steamy, savory aroma will spread throughout your table and will definitely whet your appetite for sure. After blissfully basking in the aroma, place your focus on the inside of the pot. It looks like an artwork made of rice and other ingredients. Before digging in, don't forget to mix carefully before relishing it. Now, it's time to take delight in its texture and taste. It's like heaven! On top of that, since our kamameshi is cooked right before your eyes, you can also enjoy the sizzling sound emitting from the pot. Experience the Meriken・Hatoba-style kamameshi world with all five of your senses!
Hatoba-style kamameshi that pairs really well with our signature steak. This combination will be undoubtedly unique to Kobe! We've started doing our exhaustive research over kamameshi and already visited a couple of places to taste popular kamameshi as shown below;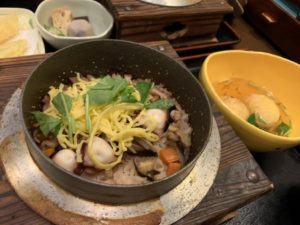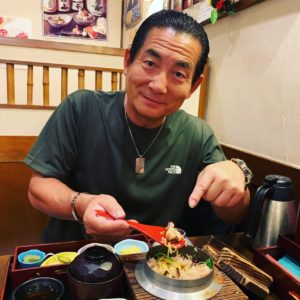 Octopus kamameshi from Awaji Island, Hyogo Prefecture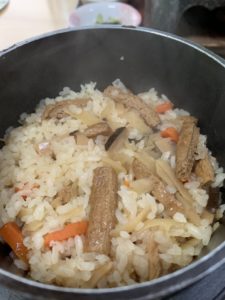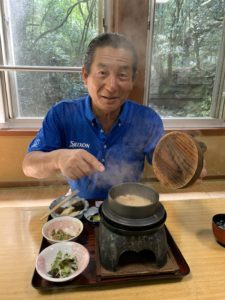 Kamameshi from Inunaki Onsen hot spring, Osaka Prefecture
Each kamameshi has its own uniqueness and tasted great.
Our great journey to create Meriken's very one-and-only kamameshi has just begun!
To be continued…