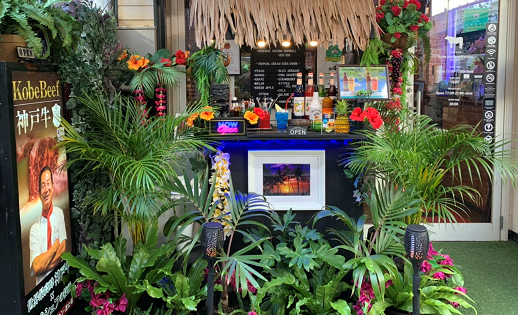 Hello everyone all across the world!
Please look at the entrance photos of our restaurant. They were just taken about a week ago. As the façade looks so tropical, many of our fans abroad might think it's in the middle of summer here in Kobe… Well, actually, it's the middle of the super cold winter season right now. Then, most of you would probably want to ask me "what is going on around your entrance?" or "what's happening to you?" My answer is very simple. Since I was young, I have been captivated by tropical weather and the laid-back atmosphere of overseas islands like Hawaii, Bali, Guam, etc. Every time I visit those places, the locals are very easy going and friendly with big smiles. It makes me feel so calm and relieved. I'm big on tropical islands. This is the reason why the interior and exterior of Meriken・Hatoba have been beautifully decorated with tropical-style plants and decorative items regardless of the season.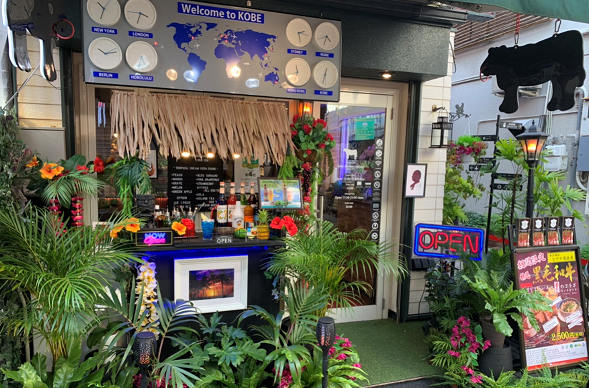 By the way, our restaurant is situated in Kobe Nankinmachi (Chinatown). Nankinmachi is well-known as the area where you can enjoy exploring hundreds of local food stands, shops, and restaurants. Find and savor your favorite food and drinks while strolling around the area! The local food and drink stands are often called "Yatai" in Japanese and Yatai is undoubtedly one of the most symbolic things that attract visitors here in Nankinmachi. Honestly, I've been thinking about building my own tropical-style drink stand right in front of my restaurant for years. I've wanted to serve a variety of unique and delicious drinks to visitors. And now, my third dream has finally come true! Check out the stories about my first dream (Merien・Hatoba-style Kamameshi) and my second dream (Meriken・Hatoba original goods with my silhouette self-portrait) below;
https://meriken-hatoba.jp/en/blog/2020/11/15/combo-review/ (First dream)
https://meriken-hatoba.jp/en/blog/2020/11/30/logo/ (Second dream)
I designed and built this drink stand on my own and the construction was completed in about a week. I hope you like it! As our next step, we've been currently coming up with ideas to create Hatoba highball and our original tropical cream soda cocktails.
These three photos shown below are the Hatoba highballs and they are still in a development phase. The Hatoba highball is made with Japanese whisky, blue liquor, sparkling water, and ice cubes. Our Japanese whisky is exclusively aged in our oak barrels. This aromatic aged whisky really pairs well with blue liquor. It tastes like heaven! On top of that, we add multi-color flashing ice cubes (ice cube-style LED cubes) to make it more appealing. The combination of the aroma from the aged whisky, the taste mixed with blue liquor, and the lighting effects of ice cubes will absolutely go way beyond your expectations. Anyway, we will never compromise anything until we completely develop our unrivaled drinks. We will keep you updated!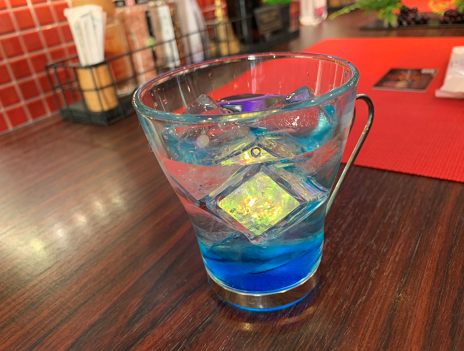 Gold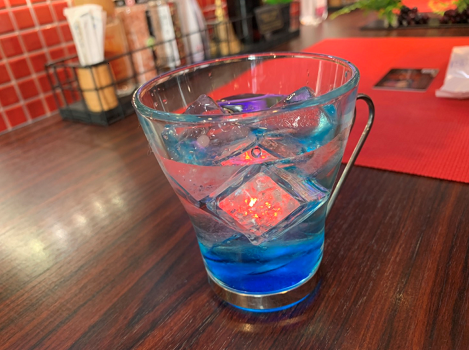 Red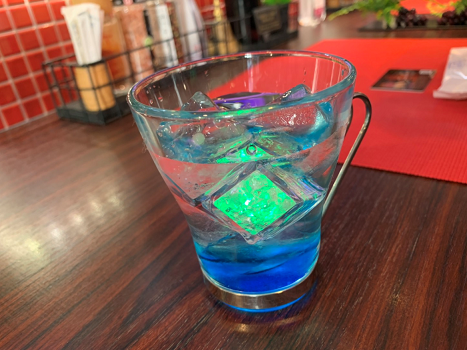 Emerald green
We are hoping that this severe corona crisis will be contained by next summer, 2021. And we are really looking forward to serving you our special drinks at this Merikan・Hatoba drink stand that definitely fits the Japanese summer season. When you visit us, please don't forget to take a look at my silhouette self-portrait right next to the door!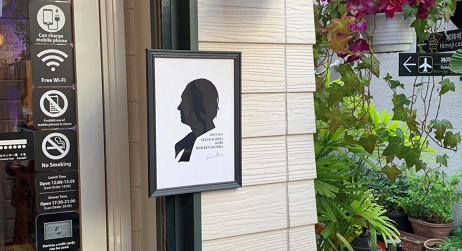 Have a wonderful rest of your day!
Sonoshi Okumoto